Universal Peel by Krulig® SM Created by Dr. Eduardo Krulig in 1985, is a peeling in two phases, liquid and cream. It is versatile and safe for the patient and the doctor. It is a peeling composed of multiple active components.
Laboratorios Krulig is the manufacturer of this modern peeling, with latest technology, and a stable standardized formula, achieving a product with a high level of effectiveness and safety.
Suitable for all skin types from I to VI Fitzpatrick.
It is a non-toxic peeling.
It does not require cardiac monitoring or surgical environment.
 Depths of the Universal Peel by Krulig® SM:
Application of 1 day: Superficial Peeling.

Application of 2 days: Medium Peeling.

Application of 3 days: Medium Peel – Deep.
The Universal Peel by Krulig® SM does not produce skin liquefaction. It does not contain croton oil in its formula. Flaking occurs in defined layers, allowing the early appearance of new skin, smooth, bright, fresh.
Indications:
Facial Aging – Wrinkles and fine stockings

Pigmentary disorders – Melasma (associated with treatment

Amelan

® by Krulig

)

Actinic keratoses and lentigines

Senile hyperkeratosis and solar

Acute acne

Acne Scars

Scaly Ichthyosis and Psoriasis

Keratosis pillaris
Regions of the body:
Face.

Back of hands and forearms.

Anterior chest and back.

Shoulders.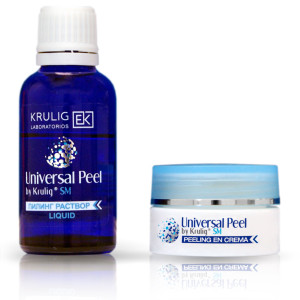 Suitable for all phototypes.