Amelan® by Krulig is the best known and effective worldwide skin depigmentation system of skin blemishes. It has been created by Dr. Eduardo Krulig, Venezuelan Plastic and Reconstructive Surgeon, of Polish origin, result of several years of research. Amelan® by Krulig was the first system in which seven active principles were integrated in a single active depigmenting formula, (1985-1990) which was a novelty in the treatment of skin hyperpigmentation of melanic origin.
Amelan® by Krulig acts for 3 mechanisms of action:
It blocks Tyrosinase.

Inhibits oxidation.

Interferes the transfer of melanin from the melanosomes to the melanocyte therefore not allowing the arrival of the pigment to the surface layers of the epidermis and dermis.
The rapidity of action and the effectiveness of Amelan® by Krulig make it the most used worldwide depigmentation treatment and preferred by doctors.
Available only in some countries outside the European Union.
It allows the patient to do his usual activities without be absent from work.
Indications:
Melasma.

Solar and senile lentigo.

Post-inflammatory hyperpigmentation.

Prevention and treatment of post-peel hyperpigmentation.

Acanthosis nigricans.

Nevus of Ota.

Hyperpigmentation on the dorsum of hands (lentigines, hyperkeratosis), decote, anterior and posterior thorax.

Photo and Crono aging.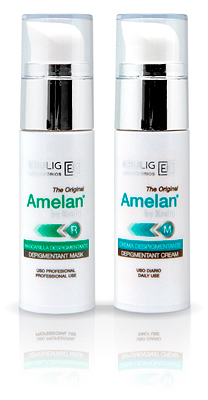 Suitable for all phototypes.
Clinical Cases courtesy of Dr. Eduardo Krulig, where the results of Amelan® by Krulig can be appreciated.