Star Peel® Anti-Aging by Krulig, designed and formulated by Dr. Eduardo Krulig according to European standards, is a modern superficial peeling, with which we achieve a renewal of skin with a beautifying flash effect, without obvious signs of peeling, scaling or redness of the skin.
Its formulation is adapted to the requirements of the European Union.
This peel renews the surface layers of the skin, oiliness and decreases sebum production, dries acne lesions and renews skin cells. Indicated in fine wrinkles and tired skin without luminosity. Suitable for use in all seasons, in all skin types, treatments for face and body.
Star Peel® Anti-Aging by Krulig formula includes the most modern active ingredients such as Retinyl Palmitate, Lactic Acid, Mandelic Acid, Salicylic Acid, propylene glycol.

Mode of Application:
Clean and degrease the skin.

Apply the solution with a brush (approx. 2 ml).

Leave on for 6 hours.

Wash the skin with water and a neutral liquid soap. It is recommended the use of Liquid Soap by Krulig.

Do not apply moisturizers for 12 hours after each application.

Repeat as medically indicated.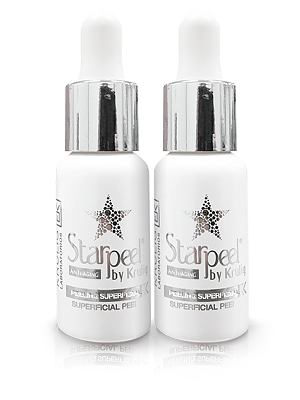 Suitable for all phototypes.